You can take many good steps toward protecting your home, but the unexpected still happens, and damage still occurs. This is why you have insurance. Homeowner's insurance mitigates the impact of destructive events and helps you recover as quickly as possible.
However, roofing insurance companies can be difficult to work with, and getting your roofing claims to go through is sometimes a challenge. The following are some tips that will set you up for success as you file a roof insurance claim. 
When You Need a Claim Settlement for Roof Damage
1. Inspect the Damage Immediately
The sooner you get the insurance claim process started, the better. Getting things started quickly will give you the best chance of meeting the requirements as set out by your insurance plan and getting the settlement check you need to do the roof repairs.
Therefore, if there has been a storm or other event that you suspect has caused damage, it's best to inspect your roof right away.
Yes, you can always inspect the roof yourself, but a professional roofer might be necessary. If you aren't a professional roofer, you will not know what types of damage to look for. 
2. Document the Roof Damage
You want to make sure that you, or anyone doing the inspection, documents all damage present. You should write everything down and take pictures for visual evidence. 
Any reputable roofer that does the inspection should provide a damage checklist with notes and photographs. They should provide a roofing estimate that details necessary repairs, repair costs, and recommended actions. These are all the things that your insurance company will need to know.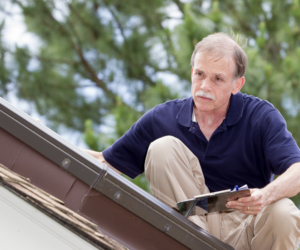 3. Inquire About Coverage with Your Insurance Company
Once you understand the scope of damage and how much repairs will cost, as well as the source of the damage, call your insurance company and ask about your coverage. 
Find out exactly what type of damage your insurance plan covers, and then explain your case.
4. You Must File the Roofing Insurance Claim Yourself
It might be tempting to ask the roofer to file the claim for you. However, this is not legal. A roofer cannot file an insurance claim on behalf of a homeowner. Be prepared to file the claim yourself. 
5. Allow the Insurance Adjustor to Set Their Own Appointment Date
Once you contact your insurance company, an adjuster from the company will be assigned to your case. They will contact you to schedule a visit to inspect the roof and assess the scope of damage.
Give the insurance adjuster the opportunity to come by when it works best for them. 
6. Don't Watch Over the Insurance Adjuster's Shoulder
When the insurance adjuster arrives, don't breathe down his or her neck. Watching over their shoulders and keeping an eye on everything they do will not help and could annoy them. Let them do their jobs unmonitored by you.
7. Work with a Reputable Roofing Company
For roofing estimates and roof repairs, work with a reputable roofing company. If you can't get a recommendation from someone you trust, pick a company that has received many Google 5-star reviews.