The Best Estimate Software: Xactimate
Are you submitting the most accurate estimates possible? Accurate estimates are critical when it comes to submitting successful insurance claims. Xactimate software is the industry leader in estimate-writing products, and it's what you should be using.
Having trouble handling the volume of estimates landing on your desk? Outsource them to the professionals at American Roof Supplements. We're Xactimate specialists and we produce detailed, accurate estimates.
Leverage Advanced Measuring Technologies
Not too long ago, roofers could not have imagined the measuring technologies available today. Satellite and aerial imagery of roofs now make it possible to record important measurements precisely and virtually.
One product that harnesses this technology's capabilities is EagleView Reveal. It allows contractors to take measurements without being on-site and to use these measurements for generating estimates. What a time-saver it is to have accurate measurements delivered to devices without having to be on the property!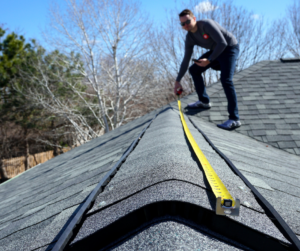 Put Document Management Software Applications to Work
We all deal with lost paperwork, misplaced notes, and misfiled documents. However, if this scenario is your norm, you are losing valuable time to these inefficiencies. Excellent software applications specific to contractors have been developed, and you should take advantage of these. Even if they seem intimidating to learn, the payoff is well worth the effort.
These applications help keep important documents, notes, images, and forms in one place and provide cohesive systems that take contractors from the beginning to the end of projects. CompanyCam is an application for image management. It allows contractors and their teams to take photos and store, categorize, sync, and share them across the platform and between multiple users.
Other software apps are available that will also improve your estimates:
Joist (create estimates & invoices and more)
SkyMeasure (roof reports)
Beacon 3D+ (generate measurements)
RoofOrders (roof schematic reports that produce detailed roof measurements)
Roofr (sales toolbox for roofers with a suite of features)
Evernote (a place to keep track of everything)
Simplenote (note management)
Trello (organize, manage, track)
Make Technology Work for You
If you're a busy roofer with estimates to produce daily, along with a thousand other tasks, make technology work for you. True, it might take you a few hours or a couple of days to evaluate software or application options. It might take you that much more time to learn the programs you select.
And while those hours or days feel like a huge chunk of time out of a busy week, overall, they'll result in time savings, efficiencies, and organized systems.
You may choose to learn some applications and not others. Take, for example, Xactimate estimate software. Companies like American Roof Supplements specialize in producing estimates for contractors using Xactimate software. Companies like ours have developed proficiency and excellence with Xactimate so that if you decide to outsource your estimates to us, you can be assured of receiving accurate, reliable documents.
Take advantage of the benefits of technology by learning to use the tools that will take your business to the next level.