Have you noticed roof leaks, lots of missing shingles, or other roof damage? Is your roof at the end of its life? Has your insurance company suggested you get a new roof?  
If it's time to get a new roof, start thinking about getting quotes/estimates from roofers. 
Here's what you need to know about how to get and compare roofing estimates. 
You Should Get More than One Estimate 
Look up local reputable roofers (check their Google ratings and reviews) and call several to come out and give you an estimate.  You may have family members or friends who can recommend someone who did their roof.  Always ask for a free estimate.
Always Check to See if the Roofing Contractor is Licensed and Insured
Not every state has the same requirements for licensing and insurance. Find out what your state requires and make sure each contractor has insurance and is licensed.  This is to protect your liability in case of an injury or fall.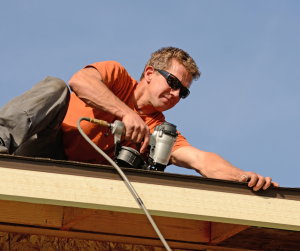 Have A List of Questions You will Ask Each Contractor
Make a list of questions and ask each roofer the same questions.  Do some research and ask specifically about the type of shingles used, the wind rating of the completed roof, how many nails are used per shingle, and the ventilation type. Ask about products used on flashing, starter courses, ridge caps, ice and water shielding, and type of underlayment.
Look for Thoroughness and Professionalism 
Be there for the inspection and notice if the contractor goes on your roof or just eyeballs it from the ground.  Do they have a professional manner and know the answers to your questions?  Make sure the estimate is thorough and includes all information needed.
Make Sure You Get a Total Breakdown of Costs and Warranties
The products the contractor uses usually have a manufacturer warranty.  There may also be a workmanship warranty offered by your contractor. Make sure both are on the estimate.
Ask About Potential Extra Costs
The contractor cannot predict what they may find when they tear off the shingles.  Decking is the base of a roof and is usually made of wood.  If there has been any water intrusion, the decking may be rotten and need to be replaced. Ask about any other potential costs that may occur.
Find Out About the Payment Schedule, Timeline, and Contract
Some contractors want a partial payment upfront and then a final payment when the job is completed.  Make sure never to pay the total cost upfront.  Ask about a timeline.  Check on the length of time it will take to install when begun.  A contract may be part of an estimate.  Do not sign a contract until you are sure this is the contractor you want to use.  
What Should an Estimate or Contract Contain?
Materials list and prices

Due dates for payment and methods

Names and contact information from both owner and contractor

List of materials, labor, and fees broken down on the quote

A complete statement of work to be done

Estimated start and completion date

The warranty and guarantee are clearly stated

Length of time until estimate expires

If a contract is signed, both parties should sign
Roofers–We'll Write Your Estimates
No, we're not talking about your project quotes for homeowners. We're talking about storm-related roof damage repair estimates for insurance companies. We write these kinds of estimates for $50. Call us!