It is possible that after a storm goes through your community, you may have some gutter damage. Your gutters may have been crushed or dented by falling branches or high winds might have torn away from the edge of the roof. If either of the above happens to your gutters, the first thing you should do is to find your homeowner's insurance policy and give your insurance company a call.
Most homeowners' policies cover both gutter and roof damage. Your insurance company may require you to use a particular gutter repair professional, or you may be able to find your own contractor and pay them with your claim check. The claim check you receive will be issued to you after an insurance adjuster comes to your home, inspects the damage, and assigns a cost to repair the damage. The final claim check will amount to the total cost of repairs minus your deductible.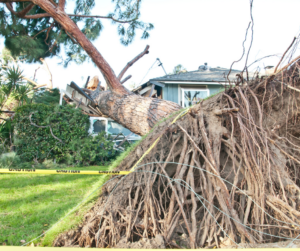 Finding a Gutter Repair Contractor
Some homeowners may choose to repair or replace their own gutters. If this is not a scenario you would love, you can find a professional to do the job for you.
There are two kinds of professionals to consider for gutter repairs: gutter installers or general handymen. It is important to remember that there is a chance that general repair professionals may not give you as high a quality of work as the professional who specializes in gutter repairs and installation.
Once you decide which professional to go with, the process of hiring them will be very similar.
Ask For Recommendations
Word-of-mouth may be a beneficial way to find a good repair company. Ask your friends, family, and neighbors who they use for gutter repairs.
Look Online
Search for "gutter repair near me" on any online browser. Make sure you read the reviews of any company you find. 
Contact the Top Three
After you've scanned your search results and read their reviews, choose three candidates. Call each one, give them a description of the damage, and set up appointments for them to assess the damage for estimates.
Choose Your Contractor & Schedule Your Gutter Repair
Note a few things during the estimate appointment. Did the contractor show identification? Did the contractor actively listen to your concerns and desire for the repair? Did they seem knowledgeable? Did they give you a written estimate? Based on your answer to these questions, select your contractor and schedule the repair job.
Gutter Repairs and Your HOA
Depending on the extent of the repairs required for your gutters, your HOA may have to approve them. If, for example, you wanted to repaint the new or repaired gutters after the project is completed, the HOA may need to approve the paint color. It is never good to assume any approvals are not required; be sure to check with your HOA about any gutter repair work you are planning. 
Damaged Gutters, Damaged Roofs, and Roofing Supplements
When damaged gutters are the least of your worries because the storm inflicted greater damage to the roof, you will need to get a roofer involved. (The roofer may be able to repair the gutters at the same time as they repair or replace your roof.)
Typically, an insurance company will send out their own adjuster to evaluate the roof and assign a cost to its repair or replacement. Insurance adjusters often miss important items, however, and the claim check isn't enough to cover a comprehensive repair or replacement. You, with the assistance of your trusted roofer, should file a roofing supplement. This is a secondary claim filed to fill in the gaps of the items missed by the adjuster. 
Contact American Roof Supplements to get an expert to write your supplement. We have written thousands of supplements for hundreds of roofers over the years. We make the process easy and fast. Get the pros to write your supplement and leave no money on the table!