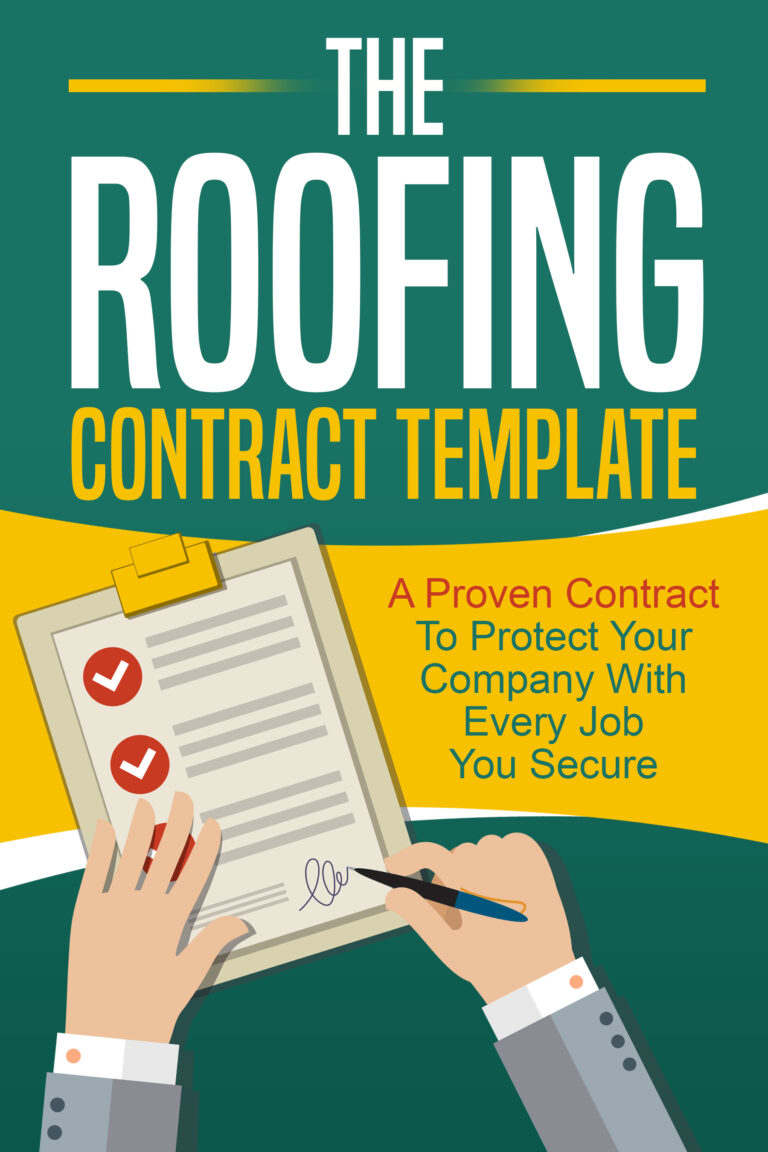 Every Roofer Should Have One
No one will dispute the fact that for the professional roofer, the contract is the foundation upon which a protected job is built.
You need a contract with customers that you don't know from Adam. You also need a contract with customers who are friends or family.
A thorough contract covers all the bases. It tells homeowners what to expect, what they're paying for, and what constitutes the finished job. It protects roofers by ensuring payment, setting protocols for  unexpected situations, and containing responsibility.
Roofer, do you have a proven contract?
Take Our Contract and Run
Whether you need a whole new contract or you need a beefed-up contract, we invite you to download ours and use it in any way you need.
That's right, it's free for the taking.
We've made this document super-useable because it's a fillable PDF file. This means that all the blank spaces can be filled out with information specific to your business. Once you fill in the relevant parts, save it under a new name. From there you can file it, print it, or email it to your customer. Go back to the original PDF file to use again and again.
This is the Doc We Used
Where did this contract come from? It's the one we used during the years we operated roofing businesses in Atlanta, GA, and Dallas, TX.
We made it short enough to be readable in its entirety by any homeowner. We kept in mind that the average homeowner finds a roof installation to be an intimidating project. If the contract is reams of pages long, the homeowner may feel overwhelmed and even suspicious that buried in all the ink is a clause that will screw them. A long contract does not comfort Joe Homeowner, we found.
So, we crafted a succinct two-page contract to keep things short and sweet while still covering the important details and protections.
The resulting document is what we're giving you here.
How To Use This Contract
Adapt this contract however you need to for your business. Grab the whole thing and use it as is. Cannibalize it and take select parts to add to your existing contract. As far as we're concerned, you've got carte blanche.
We want you to have a solid contract that works for you and your customers.
A Caveat (Before You Adopt and Go)
We built this contract for our companies in Texas and Georgia.
If you adopt all or parts of this document, please run it by an attorney in your state. He or she will ensure that it complies with your state's codes and regulations. If your roofing business is in Texas or Georgia, we still recommend getting the contract checked by an attorney. Far better to spend a few dollars and know the contract is compliant than to expensively find out later that it's not but could have been!
The CliffNotes Backstory
We are two brothers who have worked in the roofing industry in various capacities for the last two decades. You name it, we've done it. We've done the hard physical work of installing roofs and we've done the work of creating and managing roofing companies.
These days our energies go into helping roofers with services that make them money and improve the way they run their businesses. We offer resources (like this contract template), and we write estimates and roofing supplements. For more on our estimate and supplement services, click here.
The roofing industry is competitive, and the work is hard. No question about that! Arm yourself with proven tools, like this contract, to build customer confidence, protect your company, and rise to the top.