Three Additional Roof Components 
In Part One, we looked at six of the nine standard components that must be considered when replacing a roof–decking, flashing, underlayment, drip edges, ice and water shields, and asphalt shingles (or another cladding material).
Now in Part Two, we look at the last three roofing components that typically need to be replaced or added. 
Ridge Capping 
Along the ridge where two upward slopes of a roof meet, capping must be installed. Capping is made of a thicker, pre-bent shingle that fits snugly over the roof ridge. 
If you get a complete roof replacement, the ridge capping must also be replaced. Please keep in mind that, to cut costs, some contractors will use 3-tab asphalt shingles as a substitute for dedicated ridge cap products. 
Three-tab shingles are not designed to function as caps. When used as caps, over time they may fail and allow moisture to access the layers underneath. Be sure to go over these details with your contractor before ridge caps are installed to ensure you get the right capping product.
Roof Vents
Roof vents penetrate the roof and allow proper airflow from the attic to the outside. If your roof does not have proper attic ventilation, hot or cold air will be trapped in the attic and compromise the longevity of the roof.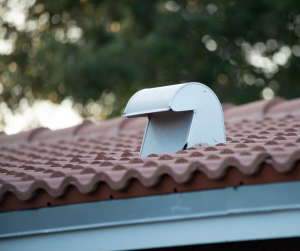 Pipe Boots
Pipe boots are made of synthetic rubber and are placed around pipes that go up through the roof. The boots provide waterproofing and prevent water from leaking into the home. Pipe boots must be replaced, especially when you are installing an asphalt roof.
It is very important to have your roof maintained regularly to ensure your pipe boots are not cracked; this issue is one of the most common causes of leaks but can be easily prevented with planned inspection and maintenance. 
Conclusion
If you did not already read Part 1 of this article, please do so to get the grand scope of all nine major components of a roof—the parts that will most likely be replaced during a complete roof replacement. To recap, the nine main components of a roof are:
Roof decking

Roof flashing

Underlayment 

Drip edge

Ice and water shield

Asphalt shingles

Ridge capping

Roof vents

Pipe Boots
If you're getting your roof replaced because it was damaged by a severe weather event, then you've probably filed an insurance claim to get the
replacement costs covered
by your policy. You should know that your insurance company may not cover all the replacement costs unless you—or someone on your behalf—files a
supplemental roof claim
. 
Why is this? Simply because roofing adjusters sometimes miss items that need repair (unintentionally or intentionally, to reduce the payout). Also, sometimes needed repairs aren't obvious until layers of the roof have been removed. 
When additional repairs are needed, a good roofer will take care of everything. A supplemental claim should be filed, however, so that your insurance company—and not you—pays for the extra costs.
Your roofer may be experienced in writing and submitting
roof supplements
. He or she may not be, though. Have your roofer reach out to American Roof Supplements. We charge $150 and provide roof supplements built by our
Xactimate software specialists
and turned around in 72 business hours.